Types of bets
A bet is the amount of money a player places on a particular sporting event. Line- a list of bets with odds on specific sports offered by bookmakers. Outcome - the result of a sporting event (match) that took place.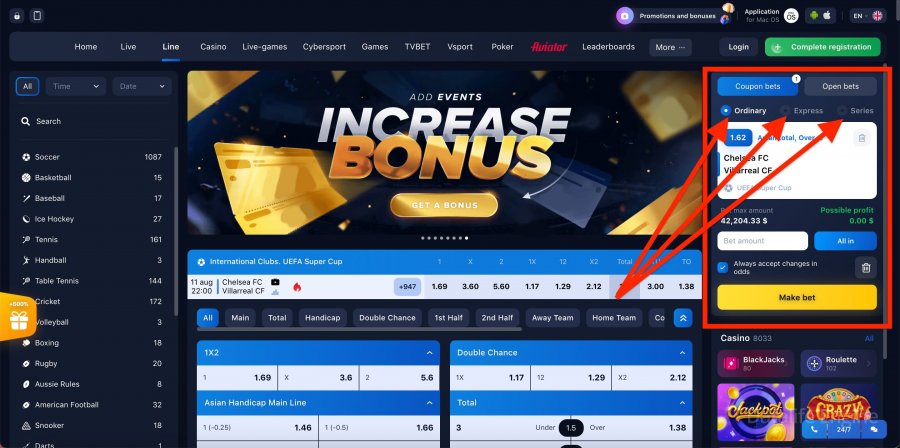 Types of bets
All bets are divided into 3 main categories:
Single (single and double chance) - the simplest type of bet. Consists of one sporting event;

Multiple (express and systems) - more complex complex bets. Are concluded for several sporting events; 

Additional (author's) - placed on certain, specified details of the event.
Single
Odinars are the simplest type of bets. Consists of one sporting event. Popular not only among beginners, but also among professional betters. The winnings are calculated very simply by multiplying the bet by the odds. For example, you make a $ 100 bet on a Liverpool vs Arsenal match with K = 2. Liverpool wins and you win ($ 100 * 2 = $ 200).

Double chance. - In this case, you can choose 2 out of 3 options for the outcome of the meeting. For example, 

Liverpool win or draw. 

For Arsenal to win or draw.
In this case, your chances are doubled.
Multiple
Express - complex bets. Consists of several sporting events that take place at approximately the same time. For example, you bet on Liverpool vs. Arsenal and Liverpool vs. Man United. In case of victory of both Manchester clubs, your bet will work. This type of bet can include dozens of sports events. Systems - This is a more complex combination of multiple bets.
Additional
Placed on certain, specified details of the event. For example, bets are made on
first minutes of the match;

first goal scorer;

the exact score of the fight, etc.
We have tried to give you the basic definitions in the world of betting. Now you can choose the options that suit you and achieve the desired result.
Good luck and winning bets with 1win!